---
Spedizione gratis in Ticino per acquisti superiori ai 50CHF.
Spedizioni nel resto della Svizzera 20CHF.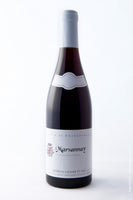 Vintage 2018 AOC
Grapes: 100% Pinot Nero
Production area: La Côte de Nuits
Exposure: east
Land: the parcel managed by Domaine Lignier, since 2003, is located north of the village of Marsannay in the place called "en la verde", with full exposure to the east. This place is located right at the exit of the coma that leads to Corcelle les Monts. This very wide valley has led to the clayey-limestone soil many stones, giving a very draining soil, excellent for growing grapes. Also, this valley brings a lot of wind, so a perfect climate for grapes. The vineyard is managed according to methods of the highest respect for the soil and the plant. The size reached is simple Guyot type.
Vinification: the vinification of the 80% destemmed harvest is carried out in three phases:
- Cold pre-fermentation maceration from 3 to 5 days
- Transformation of the must into wine from 4 to 5 days
- then 3-4 days to finalize the extraction of soluble materials (tannins, anthocyanins, etc ...) and allow a good combination of it.
After pressing, the new wine is placed directly in the barrels. of oak of 228 liters. (No new barrels to preserve the fruit and expression of the Pinot Noir). During a reproduction period of 18 months in oak 2 decantings are carried out to eliminate the lees. Finally, the bottling is carried out by us in the place of production.
Aging potential: 2-7 years.
Alcoholic content: 12.5% vol.
Tasting notes: deep red color. Perfume of great complexity, in general the fruity aromas dominate during his youth then the animal aromas take hold.
Pairing: Marsannay goes well with white meats, grilled meats and cheeses. This structured wine is generally ready for consumption after 5 years of aging.
Serving temperature: 17 ° C