---
Spedizione gratis in Ticino per acquisti superiori ai 50CHF.
Spedizioni nel resto della Svizzera 20CHF.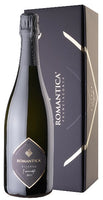 A very limited number of bottles, ninety months of aging on the lees, 2011 harvest and Dosage Zéro.
In this bottle we have enclosed our most prestigious product.
The first Riserva di Romantica is produced in the 2011 harvest and rested on the lees for a very long period.
Characterized by hints of yellow pulp fruit and bread crust, it is incredibly fresh, despite the long aging.
It amazes for its persistence and excellent acidity.
The residual sugar is almost nil, allowing us to present a Franciacorta for true connoisseurs.
Grapes: 100% Chardonnay
Production area: Franciacorta vineyard. Romantica - Passirano, Brescia.
Harvesting period: Second decade of August
Vinification: Soft pressing of the bunches and separation of the musts. Fermentation of the bases in stainless steel tanks and only a small part in barrique. Aging on the lees in the bottle for 90 months
Color: Deep yellow with golden hues
Bouquet: Hints of yellow pulp fruit and bread crust
Taste: In the mouth it is savory and amazes for its extraordinary freshness.
Tasting temperature: 5-7 ° C
Pairings: It goes perfectly with fish-based dishes, even baked.
Awarded the "Rosa d'Oro" by the Viniplus 2022 Guide