---
Spedizione gratis in Ticino per acquisti superiori ai 50CHF.
Spedizioni nel resto della Svizzera 20CHF.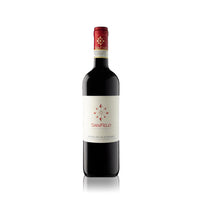 Morellino di Scansano DOCG is a wine extremely linked to the territory, produced with mainly Sangiovese grapes from vineyards located between the municipalities of Grosseto and Magliano in Toscana.
IN THE VINEYARD
Grapes: 85% Sangiovese, 15% Cabernet Sauvignon and Merlot
Altitude: 150-180 meters above sea level
Vineyard exposure: mainly South-East
Soil type: sandy loam with sandstone skeleton, the soil is rather homogeneous
Training system: spurred cordon
Plant density: 5,680 plants / ha
Yield: 8-9 t / ha
Harvest: once the grapes have reached maturity, they are harvested between mid-September and early October
IN THE BASEMENT
Vinification: takes place in steel tanks at a controlled temperature (max 30 ° C). The malolactic fermentation takes place in the same tanks and, after filtration, the wine is put on the market in the June following the harvest.
TASTING NOTES
Color: ruby red
Bouquet: intense and elegant with hints of red berry fruit
Taste: soft, full and round
Pairing: red meats, sauces, aged cheeses and typical Tuscan dishes