---
Spedizione gratis in Ticino per acquisti superiori ai 50CHF.
Spedizioni nel resto della Svizzera 20CHF.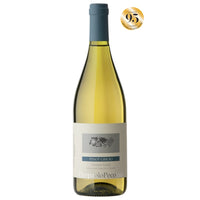 Vintage 2020
Grape variety: Pinot Grigio
Municipality of production: San Lorenzo Isontino, Mossa, Moraro.
Nature of the soil: calcareous gravelly plateau (60 meters above sea level)
Training System: Guyot 5.600 vines / ha
Yield: 50 hl / ha
Vinification: Fermentation in steel tanks (20 ° C). Permanence on the fine deposit for 7 months with weekly battonage. Bottling and brief refinement in the bottle.
Aging potential: 4 - 6 years
Serving temperature: 11 ° C
Pairing: Fish, shellfish and seafood, pasta dishes, white meats.
Dishes proposals: Chardonnay marinated chicken with potatoes and carrots. Crostini with rosemary lentil cream. Redfish with thyme