---
Spedizione gratis in Ticino per acquisti superiori ai 50CHF.
Spedizioni nel resto della Svizzera 20CHF.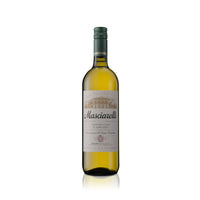 CLASSIC LINE
Over the years, the first line created by Gianni Masciarelli has become a point of reference for the company and its customers, as well as being the numerically most consistent and well-known production, in Italy as well as abroad. Its wines are today "a classic", able to reflect the genuine taste of the Abruzzo tradition and the qualities of its native vines.
IN THE VINEYARD
Grapes: 100% Trebbiano d'Abruzzo
Municipality of production and vineyard altitude: S. Martino sulla Marrucina 400 m - Loreto Aprutino 350 m - Ripa Teatina 250 m - Bucchianico 250 m
Exhibition: all
Type of soil of each vineyard: clayey, medium calcareous - medium texture - loose
Training system: Abruzzo pergola - simple Guyot
Yield: 100 q / ha
Plant density: from 1,600 to 6,500 plants per hectare
Age of vines: from 5 to 40 years
Harvest period: 25-30 September
IN THE BASEMENT
Vinification: harvesting in crates, pressing, static decantation of the must, controlled cold fermentation and aging in stainless steel
Aging potential: to be appreciated young
Alcoholic content: 12.50% vol.
TASTING NOTES
Clarity: clear
Color: straw yellow with greenish reflections
Bouquet: quite intense, fine perfume
Taste: hints of apple, apricot and iris
Pairing: seafood salad, all delicate, fresh fish dishes
Serving temperature: around 12 ° C