---
Spedizione gratis in Ticino per acquisti superiori ai 50CHF.
Spedizioni nel resto della Svizzera 20CHF.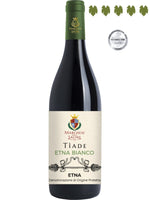 ETNA WHITE DOP TÌADE - ORGANIC
Denomination Etna Bianco DOP
Tasting notes
Color Straw yellow, floral aromas on the nose with notes of grapefruit, pineapple and passion fruit. On the palate the presence of minerals makes it fresh and delicate.
At the table
Its maximum refinement stands out with dishes based on fish, cheeses and risottos, in particular molluscs, crustaceans and smoked meats. Excellent with crudités.
Excellent at 10-12 °C
Variety: Loader
Organic: BioAgricert Certifying Body – issued pursuant to art. 29 §1 of Reg CE 834/07 – Certification Code: IT BIO 007 n°EUQ95FDG
Vineyard age: 25-30 years
Production area: Eastern Sicily - North side of Etna
Harvest Manual harvest in crates with careful selection of the grapes in the vineyard.
Yield per hectare 40-60 Ql
Vinification Fermentation in steel, at a temperature of 14-16°C.
Aging at least 2 months in the bottle before being marketed
Alcohol and analytical data Alcohol: 13.00 % Vol. - Total acidity: 5.7 g/l
pH: 3.25
Longevity From 2 to 4 years in the bottle