---
Spedizione gratis in Ticino per acquisti superiori ai 50CHF.
Spedizioni nel resto della Svizzera 20CHF.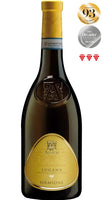 Lugana di Sirmione Giovanni Avanzi was born in the Lugana hamlet in the municipality of Sirmione, therefore in the heart of the area of origin. It is the result of the wonderful Turbiana grapes, grown in the most prestigious vineyard. The Bragagna farm extends for 22 hectares and lies exactly to the south of the Sirmione peninsula, where the soil is made up of the splendid clay that goes underground for over 60 meters. The vines have an average age of 40 years and, together with the young plants, give a Lugana with unmistakable fruit and incomparable richness.
Lugana Giovanni Avanzi represents the highest quality guarantee: The name of SIRMIONE on the label tells the story of this Lugana, the only one that can boast of this qualification. Every single bottle bears the wording Vigna Bragagna, demonstrating that the most famous wine of the Avanzi company comes from a single vineyard.
IN THE VINEYARD
Grapes: 100% Turbiana (Trebbiano di Lugana)
Production area: Lugana di Sirmione, Tenuta Bragagna
Surface: 09.00 Ha
Altitude: 72 m a.s.l.
Exposure: total
Soil: mainly clayey
Type of crop: row farming with Gouyot pruning
Planting year: 1975
Harvest period: September
IN THE BASEMENT
Vinification: soft pressing of the grapes and fermentation in stainless steel containers at a controlled temperature
Aging: rests in the bottle for 6 months
TASTING NOTES
Color: straw yellow with greenish reflections
Bouquet: floral. In some years it has a characteristic aroma of banana and / or peach
Taste: savory, fresh, with an aftertaste of bitter almond
Pairing: pasta with sea bass, risotto with tench and spring risotto based on vegetables and wild herbs. Magnificent with raw ham, but also ideal as an aperitif for its pleasant freshness
Serving temperature: 12 ° C
THE PRICES
2 Gambero Rosso glasses 2016
Bronze medal Decanter World Wine Awards 2016
1 Gambero Rosso 2015 Glass
Bronze medal Decanter World Wine Awards 2015
Bronze medal Decanter World Wine Awards 2014