---
Spedizione gratis in Ticino per acquisti superiori ai 50CHF.
Spedizioni nel resto della Svizzera 20CHF.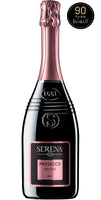 Grape variety used: 88% Glera e 12% Pinot Nero
Area of origin: Provincia di Treviso, Padova, Pordenone e Venezia
Serving temperature: 6 ÷ 7 ° c
Description: Wine with a pale, bright pink color. With a lively perlage and persistent foam, it has aromas of good intensity with floral hints of white and red flowers accompanied by fruity notes such as apple, pear and hints of red fruit, such as strawberry and raspberry. The taste is fresh and on the palate it is pleasant and harmonious
Pairings: Recommended as an aperitif, with hors d'oeuvres in general and light fish first courses.