---
Spedizione gratis in Ticino per acquisti superiori ai 50CHF.
Spedizioni nel resto della Svizzera 20CHF.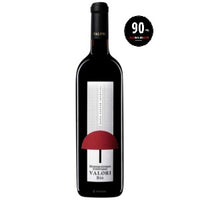 Montepulciano d'Abruzzo DOC - Bio
An ideal everyday wine for the freshness of the fruit and the softness of its tannins, Montepulciano d'Abruzzo Valori expresses the genuine tradition of the vine.
The nose develops hints of dried fruit, red fruits, spices and minerals, while on the palate it is incisive, dynamic and deep.
It does not resort to aging in barrique, but only to maturation in steel at a controlled temperature for 12 months.