---
Spedizione gratis in Ticino per acquisti superiori ai 50CHF.
Spedizioni nel resto della Svizzera 20CHF.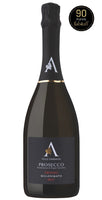 VINTAGE 2022
IN THE VINEYARD
VARIETY USED 85% Glera, 15% Blend (Chardonnay, Pinot Bianco, Pinot Grigio)
AREA OF ORIGIN Province of Treviso
NAME DOC Treviso
CHEMICAL / PHYSICAL CHARACTERISTICS Effective alcohol content: 11% - Sugar residue: 8 - 10 g / l
DESCRIPTION
The "Glera" grapes used to make this Prosecco are produced in the DOC areas of the province of Treviso, where the environmental conditions and soils meet particular quality requirements. The style of the bottle is elegant and refined making the product suitable to accompany unique and important moments. For this reason it is recommended to consume it with an appropriate glass, ideal is a flute in the shape of a slender tulip that promotes oxygenation, thus releasing the characteristic and precious aromas of this wine. Wine with a bright straw yellow color with some greenish reflections. With a lively perlage, it has aromas of good intensity with floral hints of acacia flowers and fruity notes of yellow apple. The taste is fresh and on the palate it is pleasant and harmonious.
PAIRINGS Recommended as an aperitif, with appetizers in general, and first light vegetables courses .
SERVICE TEMPERATURE 6 - 7 ° C