---
Spedizione gratis in Ticino per acquisti superiori ai 50CHF.
Spedizioni nel resto della Svizzera 20CHF.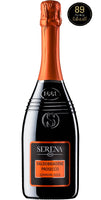 Grape variety used: Glera
Area of origin: Valdobbiadene
Serving temperature: 6 ÷ 7 ° C
The production area extends into the hilly area of the province of Treviso between the towns of Conegliano and Valdobbiadene. This area includes the territory of 15 municipalities and covers an area of approximately 18,000 hectares of agricultural land. Prosecco has been present in these hills for more than two centuries. Since the nineteenth century, with the foundation in Conegliano of the School of Viticulture and Oenology and the Experimental Station for Viticulture, studies on Prosecco have greatly developed, promoting its diffusion throughout the area. Prosecco, in the sparkling version, is a wine capable of teasing and satisfying even the most demanding palates. It has a bright straw yellow color with a fine and persistent perlage. The bouquet is complex with hints of rose, jasmine, wisteria and acacia flowers. The fruity notes are of apple, banana and pineapple, with mineral nuances. Good freshness, particularly savory and excellent persistence.
Pairings: wine suitable to underline any type of occasion, it is particularly suitable as an aperitif with friends or excellent with delicate appetizers or fish first courses