---
Spedizione gratis in Ticino per acquisti superiori ai 50CHF.
Spedizioni nel resto della Svizzera 20CHF.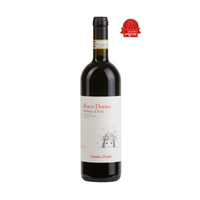 Denomination: Barbera d'Asti Docg "Bosco Donne"
Grapes: 100% Barbera
Production area: Fraz. Annunziata, Castagnole Lanze (Asti) Italy
Harvest: mid-September
Yield: 80 quintals / Ha
Vinification: the grapes are harvested manually in the vineyard and carefully deposited in crates for transport to the cellar, pressed and left to ferment at a controlled temperature with a maceration of about 8 days. At the end of fermentation, the wine is left to clear up by static decanting until the end of winter.
It will then rest in steel tanks until the end of the summer when it will be bottled: after about 6 months of bottle aging it will be ready to be drunk.
Bottles produced: About 10,000
Alcohol: 13.50%
Serving temperature: 18 ° C.
Color: intense ruby red with violet reflections.
Bouquet: large and rich, it opens with marked hints of blackberry and cherry, with hints of rose and peony.
Taste: enveloping, warm and round. Good persistence and excellent harmony.
Food pairings:
Barbera bosco women is very easy to combine as it accompanies almost all traditional Piedmontese dishes with sincere ease: in particular meat beaten with a knife, agnolotti del plin with roast sauce, braised with barbera