---
Spedizione gratis in Ticino per acquisti superiori ai 50CHF.
Spedizioni nel resto della Svizzera 20CHF.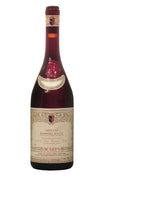 Year: 2013
Grapes: 100% Barbera
Production area: located in excellent exposure on the ridges of the bricchi of Castel Rocchero and Moirano at 380 m s.l.m. Clayey soil.
Vinification: Aging for 2 years in large French oak barrels from Allier then 1 year in the bottle
Alcohol: 13.50%
Total acidity: 6.5 g / l
Longevity: from 10 to 15 years, it is best tasted after the fifth year
Serving temperature: 16 ° C.
Color: ruby red with light garnet reflections
Bouquet: intense, characterized by marasca (wild cherry)
Taste: full and harmonious, balanced after a few years in the bottle
Food pairings: agnolotti, baked shank
Special features: Burgundy bottle with an elongated neck and amber color made exclusively for Scarpa; the winery logo is stamped on the glass