---
Spedizione gratis in Ticino per acquisti superiori ai 50CHF.
Spedizioni nel resto della Svizzera 20CHF.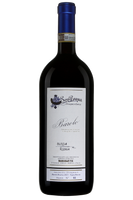 MAGNUM BOTTLE

SERGIO BARALE SELECTION LINE
Grape variety: 100% Nebbiolo.
Area of origin: municipality of Monforte d'Alba, Bussia Soprana vineyard; map sheet no. 3, particles 90, 96, 97.
Soil: clayey marl mixed with gray-brown sand in banks; silty-clayey texture.
Exposure: South-West.
Altitude: 270 m.s.l.m.
Slope: 30%.
Cultural notes: vineyard planted in 1982; grown organically. Planting sixth of 3500 plants per hectare; low espalier Guyot training.
Harvest period: first half of October; harvest by hand with careful selection of the bunches.
Vinification: soft pressing and de-stemming of the grapes; static fermentation in oak vats with indigenous yeasts selected from the grapes of our vineyards; subsequent maceration for about 30 days with frequent spraying of the skins.
Aging: in medium-sized French oak barrels (15-30 hl) for 3 years with a minimum of essential decanting. Elevation in demijohns for the Riserva selection. It does not undergo any type of clarification and chemical-physical stabilization before bottling.
Refinement in the bottle for at least 12 months.
Organoleptic characteristics:
Color: ruby red with orange reflections.
Bouquet: intense, with notes of dried rose, licorice, tobacco and leather. Goudron emerges with aging.
Taste: dry, robust but velvety, with a complex tannic texture and persistent finish.
Food matches: roasted red meats, braised meats, game, aged cheeses.
Serving advice: it is preferable to enjoy it in large glasses that promote oxygenation and enhance its aroma. A serving temperature of 18 ° C is recommended. Since it has been a Barolo for some time in the bottle, it may have a slight sediment so it is always advisable to decant.
Preservation method: Keep the bottles horizontally in rooms at a constant temperature as far as possible and away from light sources.
LAST AWARDS WON
2022: 5 Bibenda bunches
2021: 96 Falstaff points
2020: 4 Vitae vines The AIS Wine Guide
2017: 97 Parker points - The Wine Advocate
94 points Vinous Antonio Gallon