---
Spedizione gratis in Ticino per acquisti superiori ai 50CHF.
Spedizioni nel resto della Svizzera 20CHF.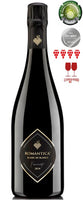 IN THE VINEYARD
Grapes: 100% Chardonnay
Harvest: selection and manual harvesting in crates
IN THE BASEMENT
Vinification: soft pressing of the whole grapes, fractionation of the musts (only 50% is used for this type), fermentation takes place at low temperatures for 14 days. This is followed by an aging for 7 months, partly in steel and partly in small wood. Malolactic fermentation is not carried out.
Aging on the lees: 36 months
Dosage: 4.5G / L
TASTING NOTES
Olfactory notes: fresh, intense and of great finesse, hints of white flowers and light notes of hazelnut.
Tasting notes: full, long and harmonious. The finish has a slight hint of yeast.
AWARDS
RED AMBER
2022: 2 Glasses
2018: 2 Glasses
DECANTER WORLD WINE AWARDS
2015: Medal of Merit
2020: Silver Medal
CONCOURS MUNDIAL DE BRUSSELS
2016: Gold Medal
2014: Silver Medal
WINES PLUS
2021: 4 Rose Camune
YEARBOOK OF THE BEST ITALIAN WINES by LUCA MORONI
2022: 90 points
2018: 90 points
THE WINES OF VERONELLI
2021: 88 points
2022: 89 points
BIBEND
2021: 3 bunches
2022: 4 bunches
GOOD WINES OF ITALY
2022: 4 stars
23rd SARKLING WINE FESTIVAL 2021
2021: 96/100